How many times have you been enjoying an outdoor activity, whether it be hunting, fishing, skiing or snowboarding, and you've had to remove your cold weather clothing and sneak off behind a tree where no one could see you because you couldn't hold it anymore?
How many men out there with incontinence issues don't want to go golfing, go for walks, or go anywhere for that matter because they are afraid they can't hold it and don't want to use other embarrassing or uncomfortable options?
Well, you don't have to worry about that anymore!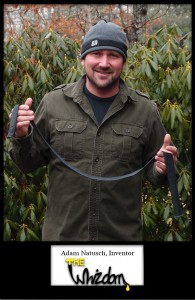 For years of concert going, tailgating, and of course, excessive beer drinking, I had always wondered why there wasn't an invention that would connect the tip of my penis directly to the ground, so that I could just relieve myself whenever I wanted and also that I wouldn't have to suffer and waste so much of my time waiting in line for a disgusting port-a-potty. Never mind the fact that if I couldn't hold it any longer and I got caught peeing in public,  I would get arrested for indecent exposure, and they would register me as a sex offender!
It's been twelve years since I came up with the idea for The Whizdom but I never brought it to life for one reason or another.  Throughout those years I've been talking about it with so many different types of people, and I began to realize that there are so many other functional uses for it other than just the beer drinkers bladder.
So this year I decided to start a company with a group of good friends, and we finally got this thing off of the ground. I know that it will make your work day better, your event much more enjoyable, it will keep you out of jail, and if you are using it for incontinence I hope it makes your overall quality of life better.
Enjoy it!,
Adam Natusch